AMBASSADOR JAMES (WALLY) BREWSTER IS AN INTERNATIONALLY RECOGNIZED EXECUTIVE, POLITICAL LEADER, HUMAN RIGHTS ACTIVIST, AND MOTIVATIONAL SPEAKER
Ambassador Brewster is currently the CEO of Insignias Global, a strategy firm representing top CEOs and political leaders around the globe.
---
Most recently, he served as the United States Ambassador to the Dominican Republic. Sworn into office on November 26, 2013 during the administration of President Barack Obama, his appointment - which was unanimously confirmed by the Senate - made history when he became the first openly gay Ambassador to serve the United States in the Western Hemisphere alongside his husband, Author Bob J. Satawake.

Ambassador Brewster's political, strategic, and policy expertise is credited for making landmark and unprecedented diplomatic and societal advancements - all despite the well documented obstacles that consistently challenged his efforts.
---
From exposing corruption, to advancing the rights of the marginalized, to changing the landscape of equality in Latin America – the Ambassador's dedicated work with multiple governments is responsible for accomplishing critical initiatives during his term, included protecting the rights of the stateless population of Haitian descent in the Dominican Republic, advocating equal representation for LGBTQ individuals, exposing the human trafficking of women and young girls, and increasing the awareness of gender-based violence.
---
Ambassador Brewster has been recognized for his successful leadership in spearheading policies and negotiations that have led to key advancements in environmental laws, public health programs, indictment of corrupt foreign officials, trade policy, international immigration laws, and enforcement of drug policies against international drug cartels. He was a top negotiator for multiple agreements and treaties between the U.S. and foreign governments.
---
As an expert in Latin America and the Caribbean business and political communities, he had a positive and significant impact on trade between the U.S. and countries in the Western Hemisphere. His knowledge of NAFTA, CAFTA, HELP and HOPE in addition to Foreign Corrupt Practices Act and trade policy has made the Ambassador a top resource for international companies and leaders of foreign governments. 
---
---
GLOBAL THINKER
Named one of FOREIGN POLICY MAGAZINE's "Top 100 Global Thinkers" for his work with marginalized groups, the Ambassador has challenged traditional thinking to impact nations, religions and societies worldwide.

---
Prior to his position as a U.S. Ambassador, the Ambassador was the managing partner of SB&K Global, an executive strategy firm specializing in consumer dynamics, political and human rights advocacy and reputation management, and Officer/Senior Vice President of Marketing & Communications for General Growth Properties, the country's second largest Shopping Mall REIT with over 250 shopping malls worldwide.
---
Having served as a diplomat, chief executive and corporate leader, he has a deep understanding of how consumerism and cultural dynamics impact international business and development. Through his robust political and professional experiences, Ambassador Brewster has proven to be an innovator and leading expert in the areas of international politics, trade, government relations, business strategy, diplomacy, crisis communication, global retail and product development, consumer evolution, market intelligence, positioning and branding.

Ambassador Brewster continues to promote democracy around the world, meeting with leaders in Western Europe and Latin America while serving on the Advisory Boards of the Parliamentarians for Global Action (PGA), National Democratic Institute - Ambassador's Circle (NDI), and The Atlantic Council - Ambassador Leadership Council.
---
He is also an active leader in advancing the rights and freedom of all individuals, including having served as the National Co-Chair of the LGBT Leadership Council for the Democratic National Committee and the National LGBT Co-Chair of the Obama 2012 Re-Elect Campaign. He has also been involved with the Human Rights Campaign (HRC) for more than 30 years and served on its National Board of Directors. In addition, the Ambassador was the National Co-Chair of the Obama Leadership Circle, as well as a Presidential Partner and National Finance Committee member.
---
A native of Lindale, Texas, Ambassador Brewster received his education in Business Administration with a focus on Marketing at Tyler Junior College and Texas A&M University. 
Impacting A Nation, Religion, and Rights For All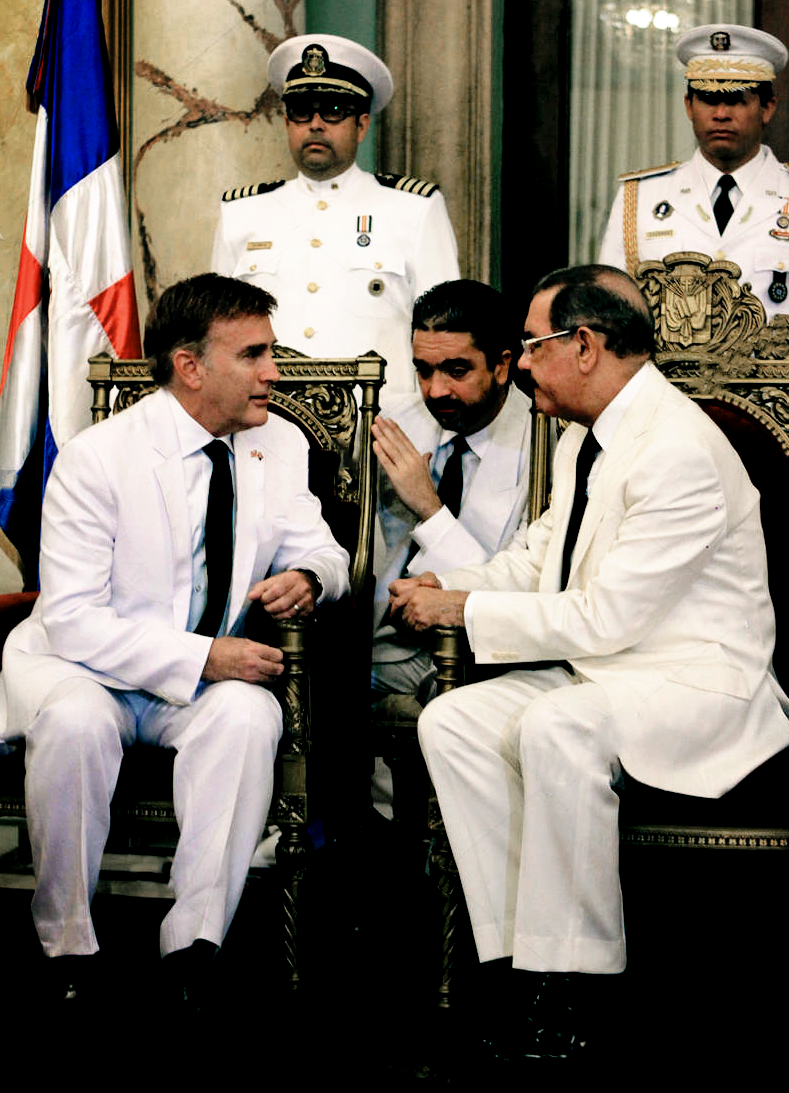 Not only did James "Wally" Brewster make history in 2013 when he was appointed the first openly gay U.S. Ambassador in the Western Hemisphere, but the highly conservative nation he was named an envoy to presented a challenge and international attention unlike any other diplomat had experienced.
---
A developing nation where 95 percent of its 10 million population are Roman Catholic, the Dominican Republic was a conservative nation still widespread with LGBT prejudice, discrimination, abuse. With the Church having been a dominating figure in Dominican politics, society, and culture for years – it helped to shape the island's conservative mindset that strongly opposed homosexuality in any form on the island.

Appointing an LGBT political leader to serve in a highly conservative nation had not only stacked the odds against Ambassador Brewster before he even took office, but simultaneously spurred an important international conversation on prejudice and tolerance in Latin America that led to a ground-breaking moment in the Catholic religion's history.
Ambassador Brewster's collective work and efforts over the years have garnered significant international recognition, including being awarded the highest honor given by the Dominican Republic, the "Duarte Medal of Freedom," for his impact on the nation.
---
He was also recognized by FOREIGN POLICY MAGAZINE in 2016 as one of the "Top 100 Global Thinkers" for his work against corruption and defending human rights, named to OUT MAGAZINE's "Out 100" list for his influential impact on advancing rights for the marginalized, honored by the University of Illinois at Chicago (UIC) with the "Global Humanitarian Award" for his advocacy on behalf of sexual minorities and HIV prevention in the Dominican Republic; and was a finalist for the U.S. State Department's "Sue M. Cobb Award" recognizing America's top diplomats for exemplary diplomatic service.